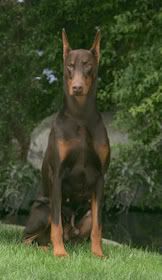 My love for the Doberman Pinscher started as a child. I was at a horse show in 1962 when I saw my first Doberman, and was instantly struck by his beauty and power; he had the look of a Thoroughbred. I got my first Doberman five years later, in 1967. I named her Bruda Bonnie Miss, and called her Missy. Missy was sired by Ch. Marks-Tey Roddy of High Halo, and though she did get a few points, she never finished.
In the mid-1970's, I was offered a red bitch named Janna. Initially I declined, but after I met her at a show in Beverly Hills, California I knew she was coming home with me. Janna was my true foundation bitch; her name was Ch. Avatar's Geripol Janna. Her sire was Magic Midnight of Aramis, a Ch. Ridgecrest's Bit O'Irish son out of Ch. Keresma's Eireanne (a daughter of Ch. Tarrado's Corry). Her dam was Avatar's Christina, a Ch. Quailway's Eclipse daughter who went back to Ch. Brown's B-Brian and Ch. Marks-Tey Shawn.
Janna's second litter produced a beautiful male named Ch. Bruda Taylormade of Avatar, who was Best Futurity Puppy at the 1988 National in Santa Rosa, California.
Fast-forward to 1988. A few years prior, I had purchased a bitch named Aquarius Veronika V Abelarm, a littermate to Jim Briley's top producing bitch, Vanessa. She was sired by Ch. Duberet's Rocket Cruiser, out of Ch. Rehbar Delissa of Aquarius. I decided Veronika needed to be bred to a very strong dog that would produce good bone, hard muscle and good movement. Mary Rodgers had imported a Dutch Doberman named Dexter vom Franckenhorst, and this was the dog I had been looking for. Dexter had gorgeous black almond-shaped eyes, big round bone, wonderful markings, tight cat feet and a true Doberman temperament.
There was never any doubt in my mind which puppy I would keep - a red male that I named Bruda Teller of Tales. His first puppy match at three months old was a movement class - the puppies were to be judged on movement alone. Teller had never even been on a leash, I had to carry him to the ring - but after watching the other dogs for a few minutes, he knew what to do. In the end, this puppy that had never been moved before won the class, over 23 other puppies.
Teller finished from the Puppy classes with four majors and numerous Best of Breeds, with handler Andy Linton on the lead. Teller was also the winner of several Best Puppy in Specialties. He continued his winning ways by taking the Breed at Westminster Kennel Club in 1992. To top it off, Teller went on to be the #1 Doberman in the U.S. in 1992. Teller sired 22 champions, including Ch. Aquarius Damien v Ravenswood. Damien was the #1 Doberman in 1993 and 1994, and Best of Breed winner at the 1995 National under Judge Peggy Adamson. Teller was also the sire of Ch. Holmrun's Wm Teller Marienburg, a Best in Show winner in Canada and Japan, and the #4 Doberman in Canada in 1995 after only three months of showing. Teller's daughter, Ch. Marienburg's Love Potion, was the DPCA Top Producing Bitch in 1994. His granddaughter, Ch. Bruda Matter of Pride CD was another top producing bitch, with 13 champion kids to her name. One of Teller's most famous grandsons was Ch. Marienburg's Repo Man. His first time in the ring, RP was Best of Winners over 211 class dogs at the Danbury Doberman Pinscher Club, Host Club of the 1999 National Specialty. At the 1999 National, RP was
best Futurity Junior and Grand Prize Futurity. RP went on to win 55 All Breed Best In Shows, was the 2002 DPCA National Specialty Winner, and was #1 Working Dog in 2002.
The past decade has brought many wonderful Dobermans into my life, including BIS/BISS Ch. Bruda In A Red PT Cruiser (pictured above) and his littermates, and many wonderful puppies sired by Ch. Cambria's Cactus Cash. Most recently, I have produced some beautiful dogs sired by Ch. Moa's Turn Me Loose WAC, including Ch. Bruda Everybody Likes Friday, Ch. Bruda Everybody Likes Gunner UD VER, Ch. Bruda The Artist is Courbet, Ch. Bruda the Artist is Savannah, Ch. Bruda Lord of the Rings, and BIS Ch. Bruda Ranger of the Night.
We are located in Deer Grove, Illinois, on a beautiful acreage surrounded by farmland. The dogs spend their days relaxing in the house and out in the yards, playing with each other and digging up gophers in the dirt!
We do not condone or support the breeding of the "white"/albino Doberman as it is a genetic mutation.